You will DIE, because they know your every move
How much planning, how much work and how much dedication could be put together into a game, Rage in Peace is a perfect example of that.
Released on November 8, 2018, the small Indie title Rage in Peace is playing perfectly with mind of the gamers. Developed by Rolling Glory Jam and Published by Toge Productions Another Indie, the game seems to be planned by some crazy game enthusiasts who know how a gamer reacts in certain situation and place a brutal death on every possible move you attempt. Simple, yet brutal, the game draws a line for you to walk, where your death is the only way you learn where to go.
Game is based on protagonist Timmy's last day of life. Not like he wanted to live anyway but he had a dream that he wants to die peacefully in his pajamas, in the warmth of home, in peace, and with no drama. So when Grim Reaper tells him that it is his last day of life, without asking any question like why, he runs from his office to his home and his entire journey from his office to home is filled with how nature wants to just kill him and he wants to fulfill his wish of dying in his home. Nature is so brutally against you in the game that it will never hesitate to defy its own laws to kill you.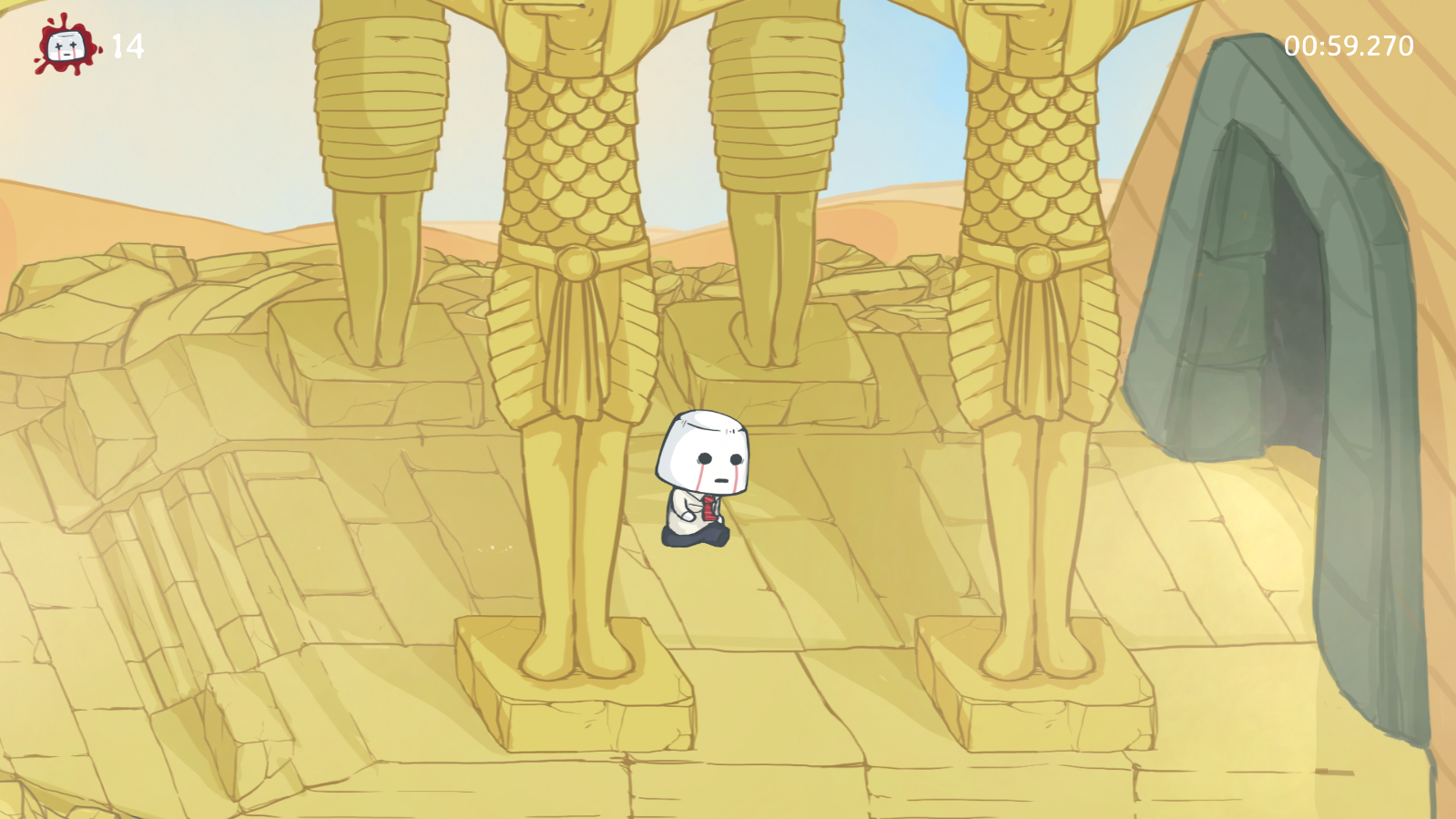 How is the gameplay?
Brutal. While fully justifying my every key input without any lag and running at full 60 fps all the time, it keeps killing me every 2nd second of the game, because that is the only way to know the pattern to progress. The game tests your memory of different patterns, your control on your pace/actions, your focus and your will to progress. There is no first playthrough without dying hundreds of times in each level in this game. If dying in a game frustrates you, keeping second controller by your side is strongly recommended. There are so many deaths in so many different ways in each and every single level that playing a level on a video will almost make it look like a gameplay trailer. And they added speedrun and challenge run mode on top of it. While speedrun is generally beating your own time in each level, challenge run presents a challenge to beat the entire game deathless in one go, which seems brutally impossible to me. Watch my first 15 minutes of stream and decide.
How is the story?
Amazing. The way game started, I felt it would be just another side scrolling game with least attention to the story, but I was proven wrong. While Rage in Peace was brutal enough to make me throw my controller out of the window more than enough times, it was the story that kept me playing it more and more. The story, the dialogues; they develop so amazingly that I never felt lack of explanation. Amazing dialogue writing and story are definitely going to keep players hooked to the game and bonded with the character. This will force players to pick up controller again to know what comes next. And what an amazing and meaningful end to a story that starts with a depressed character who doesn't seem to have life or emotion. Any words I add here will spoil the story so I'm going to avoid that, but you have to trust me, its one of the best I ever saw in a game. It was meaningful and wasn't stretched long unnecessarily at any point of time.
What else?
Music. Last I loved any indie title music was starting theme for Ori and the Blind Forest. I might have missed many but this is exactly where I would compare this music with. Rage in Peace is filled with amazing music and songs. The game features fully voiced songs. DLC for this game is only music tracks. The music is so positive and energetic. It keeps up with the story in such a way that my heart would just burst into tears of joy. I didn't skip a single music track from the game and that is very rare with me. Even while writing this review, music is playing in the background and God knows when it will come out of my car's stereo as well.  One of the music tracks is below.
Perfect game?
While the game left no room for complaints, there was just 1 particular level in the game where the game had performance issues. While steam FPS counter was showing consistent 60 FPS, the game had stuttering so bad that it almost kept me trying a short area for almost 1 hour. I didn't notice any such performance issues in any other level of the game, but this particular level had it the worst.
One more area where the game could improve was challenge run mode. While the game gives level specific speedrun option, the challenge mode only offers you to beat the entire game deathless, which in my opinion is brutally impossible. Adding levels to deathless challenge would again be next to impossible to achieve, but still could draw attention from few crazy challenge grinders out there, including the likes of me. With my little research on google I couldn't find if it is already level specific on beating a level; no one seems to have tried or has been able to achieve a deathless run. And I myself couldn't finish the first level of the game without dying once in 2 hours and with review in hand, I had to quit.
While the story and music are major strengths of this game, where I may not deduct any scores from the review, gameplay is the base of scores for any game. Rage in Peace delivered good on performance and gameplay. Despite knowing the patterns of levels it is still fun to replay and will kill you a lot, and they added speed and challenge run mode on top of it where you beat your own times or challenge yourself to beat the game deathless, which adds to the replayability value of the game. Except for a little stutter here and there which was negligible, but not in 1 particular level we discussed, the game's performance was overall good. So game deserves a 9/10 scores with the same being added to my list of strong recommendations. The factors leading to deduction of 1 score are so easily manageable with the next update to the game and it can be a total 10/10 game, but the review stands for the thing I have in hand.
So, if you seek a game for fun while putting every single gaming skill of yours to test altogether, this game must not be skipped at any cost. With that, I wish you luck on your small amazing brutal journey to defeat Nature who is defying it's own laws to kill you.
Spoiler Alert:
Fights are this easy once you learn the pattern, but before you do that game will kill you hundreds of time.
The Review
Rage in Peace
PROS
Amazingly fun gameplay
Beautiful Story
Interesting dialogues
Amazing Music
A package of everything to remember long
CONS
Performance issues on 1 particular area in the entire game
Brutally impossible challenge mode
Review Breakdown
From the list of strong recommendations from Angrish

0