NVIDIA just had their keynote over at Gamescom 2018 and they released three new GPUs – RTX 2070, RTX 2080 and RTX 2080 Ti. They start from $499 and go all the way up to $999. The Founder Edition variants, which are available to pre-order from NVIDIA's website right now. But they are priced a little higher at $599, $799 and $1,199 respectively for the RTX 2070, RTX 2080 and RTX 2080 Ti GPUs. Let's have a look!
Pre-ordering GeForce RTX 20 Series GPUs in India?
You can, but prices are very expensive right now. If you're looking for a good deal, you should probably wait for a couple of months. Still, if you just can't wait for them, MDComputers have started taking pre-orders for ZOTAC GeForce RTX Series GPUs –
Update – NVIDIA India's Website has also started taking pre-orders for the GeForce RTX 2080 Ti and RTX 2080. Pre-orders for the RTX 2070 will begin soon!
Specifications & Comparision of the RTX 2080 Ti, RTX 2080 and RTX 2070
Here is a final specification list for the RTX 2080 Ti, RTX 2080 and RTX 2070 GPUs, comparing them and also their Normal (N) and Founder's Edition (FE) Models.
| | | | |
| --- | --- | --- | --- |
| GPU Name | RTX 2080 Ti | RTX 2080 | RTX 2070 |
| CUDA Cores | 4352 | 2944 | 2304 |
| Base Clock | 1350 MHz | 1515 MHz | 1410 MHz |
| Boost Clock (N/FE) | 1545/1635 MHz | 1710/1800 MHz | 1710/1620 MHz |
| RTX-OPS | 78T | 60T | 45T |
| Memory Size | 11GB GDDR6 | 8GB GDDR6 | 8GB GDDR6 |
| Memory Interface Width | 352-bit | 256-bit | 256-bit |
| Memory Bandwidth | 616GB/s | 448 GB/s | 448 GB/s |
| NV-Link Ready | Yes | Yes | No |
| TDP (N/FE) | 250W / 260W | 215W / 225W | 185W / 175W |
| Price (N/FE) | $499 / $599 | $699 / $799 | $999 / $1199 |
NVIDIA Turing – New Architecture for the RTX 2080 Ti, 2080 and 2070
The GeForce RTX GPUs will be powered with an all-new Turing GPU Architecture. It's also a part of the all-new RTX Platform which has NVIDIA exclusive technologies like Ray Tracing, DLSS, AI Enhanced Graphics, NV-Link and much more. This new technology features up to 6X Faster Performance – but here's the truth about this apparent 'six times faster performance' feature –
The truth about 6X Faster Performance with NVIDIA Turing and RTX-Ops
It looks like the biggest, unbelievable leak seems to have come out to be true – The RTX 20 Series GPUs feature 6X Faster Performance. 
But hold on there. Pascal GPUs are not designed to perform in RTX-heavy workloads – Turing GPUs are. This new 'Up to 6X Faster Performance' statement is said keeping in mind the new NVIDIA exclusive, Turing-based technologies like Real-Time Ray Tracing, DLSS, Artifical Intelligence, and others. They also measured the 'huge leap' in a whole new performance metric known as 'RTX-OPS' instead of TFLOPS.
Basically, the older GPUs which featured the Pascal architecture were not optimized for Ray Tracing applications, while the new RTX 20 Series GPUs are.
They're comparing the old Pascal GTX 10 Series GPUs and the new Turing RTX 20 Series GPUs in RTX-heavy workloads and marketing it as '6X Faster Performance'. This works very well for marketing, but is illogical and inappropriate to compare GPUs like this. In normal, non-RTX based workloads, the RTX Series GPU are probably not going to perform 6 times as faster as Pascal GPUs.
Many hardware enthusiasts and people have big doubts about NVIDIA RTX. RTX-Ops is not a universal or well-known performance metric.
4K Benchmarks from NVIDIA on the RTX 2080 – Up to 50% faster normally and 200% faster with NVIDIA DLSS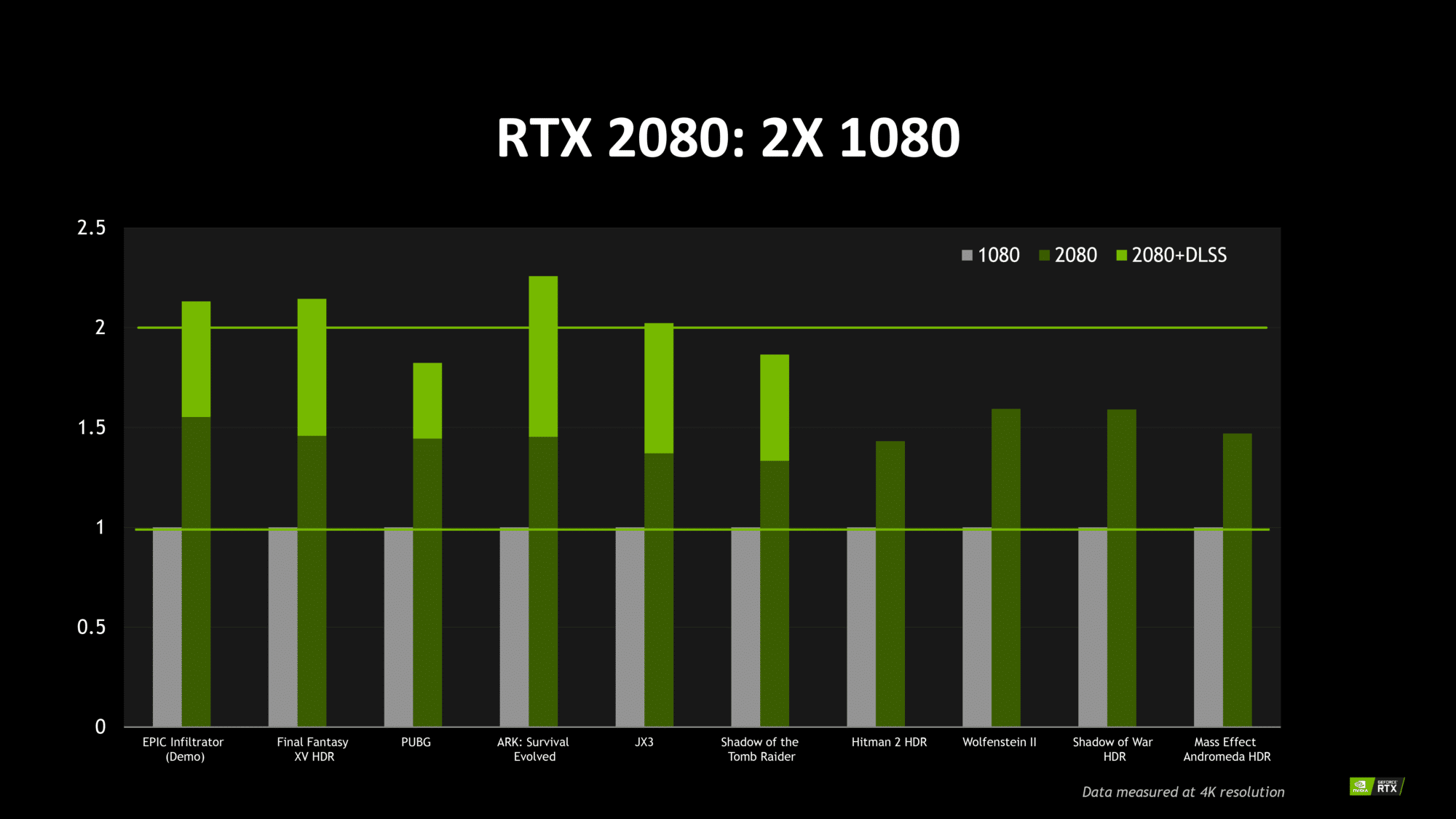 Now recently, NVIDIA showed some early benchmarks on the RTX 2080. So there we have it, in normal scenarios the RTX 20 Series GPUs will be around 50% faster on average compared to the GTX 10 Series GPUs. With NVIDIA's new DLSS Technology, this gets up to 200% faster. On Ray-Tracing (which is not at all optimized on the GTX 10 Series GPUs), The RTX 20 Series GPUs are up to 600% faster as they are optimized for this new feature.
Finally, some clarity! But still, for some accurate measures, we'll have to wait for actual benchmarks from reviewers. 50% faster is normal scenarios seems pretty realistic, but it's best to wait before a final judgement. Stay tuned for our review on the RTX 2070, RTX 2080, and RTX 2080 Ti GPUs!
NVIDIA RTX Technology Demos
NVIDIA RTX has a ton of new & exciting advancements that look gorgeous. Demos have been featured multiple times during the keynote. Reflections, shadows and overall graphics have improved quite a lot with ray-tracing. Have a look at the demos yourself –
Final Verdict
NVIDIA RTX is surely very impressive but NVIDIA has a past record of making their technologies closed-source, which means that their technology isn't probable to be adopted on a large scale. Still, they announced a ton of new games that will support NVIDIA RTX tech – Battlefield V, Shadow of the Tomb Raider, PLAYERUNKNOWN'S BATTLEGROUNDS, Metro Exodus and many others.
The new advancements they've brought are amazing – no doubt there. But still, I have a ton of doubts about their new RTX Platform. If they want to make this mainstream, they'll have to open it up and make it open-sourced, allowing it to become a 'standard' in gaming. Performance benchmarks look good, a 50% improvement in normal scenarios is what we expected in the first place. RTX just makes everything better.
Are you going to upgrade to the new RTX 20 series GPUs? Is the new RTX Platform a big advancement? Let's discuss in the comments.