Objetive of the article
The objective of this article is to clarify the status of playing videogames since there have been always a lot of controversy about playing them. Because of that, we gamers, have always been attacked by people (can be our family members, friends or other persons in general) by telling you about the negative impact that videogames can bring by playing them. But as always, nothing is extremely negative or extremely positive. I will try include several articles on scientific studies that recognise videogames and the benefits they can provide, in a neuroscience, psychological, sociological or educational way.
Introduction
We as society has always been told about the negative effects of playing video games, being demonized as one factor that could cause several serious problems in the developing of personality and being highly addictive. They have also been banned in several countries because of being "un-educative" or having a high risk of developing mental problems. But these arguments can barely hold themselves, the only strong argument that is really proved is about the addiction of videogames and developing several problems if a person plays too much.
Brain changes
In neuroscience it's proved that our brain is modified by experiences, the education and everything we do in our daily life. Videogames are not to be excluded here. This phenomenon is called brain plasticity. Our brain modifies physically as well, having some zones of it to develop more than others. According to our experiences, hobbies, raising and everything in our context, our brain develops respectively. That makes our brain to have a lack of strength in certain areas.
To sum up, everything we have done until now has determined how our brain has developed. What I want to point here is that videogames make these changes as well. This means that they do have an impact in our development and our mental status in general. Those changes are not only negative, but also in a positive.
Benefits of videogames
Games are good to improve our decision making. We have to carry lots of decision in a quick pace. Shooters, MOBAs, strategy, visual novels, every game is in the same pack. We all make subconscious choices like shooting one guy instead of another, or moving to a certain place instead of another. These situations help develop faster decision-making. The authors of this investigation performed a really well made experiment with visual perception and studied the eye-tracking to show some interesting results.
But even with this idea, there are still more benefits to playing videogames. They are being used as an educational way in school. Games are used to help in learning math, developing one's reading skills and even socialization skills. This idea is showed in the following article. Mark Griffiths did a bibliographical revision as methodology for this article in 2002.
It is also showed that videogames can help to release stress and anxiety. Using the common phrase of "letting some steam off" as an example from some interviews that were done. Videogames have also been proved to help in depression. Some studies have demonstrated that people who usually play videogames have a higher chance of not being depressed compared to people who don't play videogames.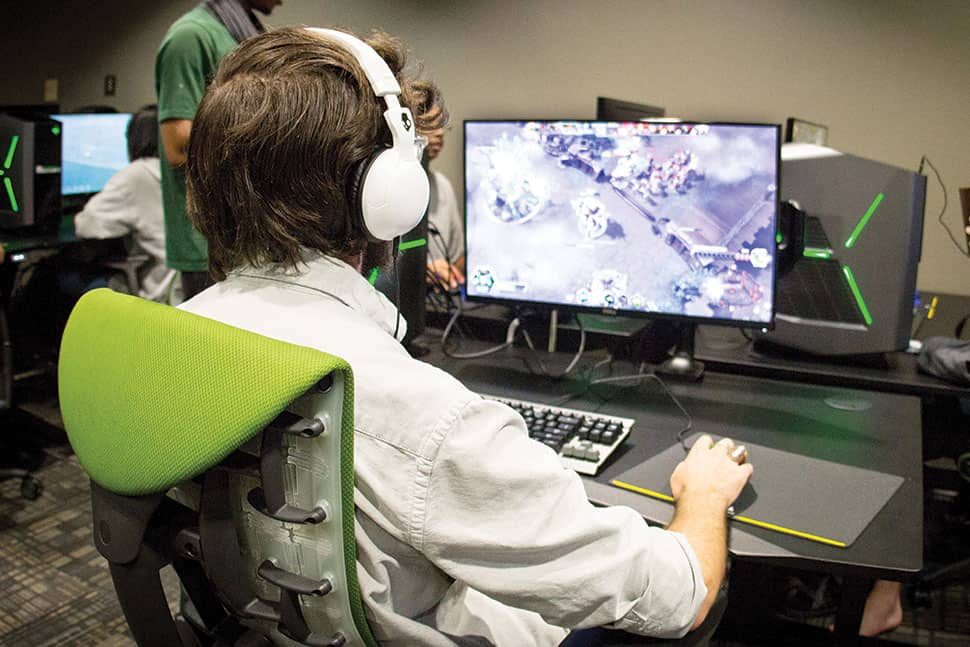 Media about videogames
In news and media, video games are always presented as violent games that cause an aggresive behaviour in teenagers because they watch so much violence on screen. But this is not correlational, there are lots of causes for this aggresive behaviour. Videogames can just help develop an aggresive behaviour, but cannot be the cause for it. Indeed some teenagers said that violent games help them to deal with negative emotions. The authors of this article did a review about other investigations and thought about the situation of videogames and the correlation with a healthy life.
Conclusion
The related articles that I based my opinions, shows that videogames can bring lots of benefits in psychological behaviour. They also help in brain development. Furthermore, if they are managed and handed in the correct way, videogames are a good way to help manage emotions.
This article was written to help refute all of this media onslaught against videogames. Since they don't create bad habits or develop mental problems by their own, I will always state that videogames can bring more benefits than causing problems. I have showed that this statement is true by referring to reports on neuroscience, qualitative analysis and quantitative analysis. Nowadays it's not hard to find good articles that demonstrate in a scientific way that videogames can provide good amounts of benefits. Even in the articles linked there are lots of studies that also have investigated the benefits of videogames.
Personal opinion
Even though I myself am a defender of videogames and the benefits they provide. I won't avoid talking about the problems that they can cause if not handled correctly. There are lots of negative effects of playing videogames. Like increasing the chances of depression, insomnia possibilities or addiction if they can't be handled correctly. But this happens with lots of things. If something gives you pleasure, that has a risk of being addictive. We need some self-control. So, the argument about addiction is not only applied to videogames, but, to everything that makes us feel good. The other problems like insomnia, depression or social isolation are other problems that can grow with the help of videogames. It's not implicit on just videogames. These problems were developed before. It's proved that videogames can just help to grow a mental problem. They don't create one by their own.
Society in general tend to criticise everything that is new and what is still not controlled. So we as people from that society, have to keep that in mind. Being conscious that part of what is said in media can be real and probably harmful. But another part of the information that we receive is probably trying to demonise. To form a critical opinion about things we should read studies from both points of view, harmful and beneficial one. After knowing both points of view we should keep the information that fits better and seems more reasonable, since reality is not just white or black, it's a huge variety of grey, taking benefits and problems in a more or less equal part.
Something I would like you to do
After all I have tried to explain. I would like to end this article with a personal reflection done by everyone reading this. We get information from media, friends, family or people in general. Sometimes we can probably be confused about what to believe, one point of view or another.
Try to think about a situation that, depending on which point of view you take would be seen as beneficial or harmful. Now, extrapolate this way of thinking with no good or bad extremes into a situation that you have lived. In my opinion, that's the way we should look into things. Not by just reading or hearing everything and believing it. Borrow the things that you agree with and use them in your way of thinking. That's how we create opinions or ideas. Accepting any idea or ideology by how good they sound is not the way to understand. To think, get some information about it and afterward create your own opinion – this is how it should be done.
Featured image credits: superhero-therapy.com