The long-awaited Cannon Lake CPUs were originally intended to be released in 2016. They then got delayed to 2018 and right now in mid-2018, they're still not here. Now, we're hearing rumors of Apple using the 8th-gen CPUs in their 2018 MacBook Air because of further delays from Intel with its Cannon Lake CPUs. Firstly, we're not even sure if Cannon Lake is going to be the 9th generation of Intel CPUs. Several rumors point to the fact that Coffee Lake S (A refresh for 8th gen Coffee Lake CPUs) is happening in late 2018 and will be a full-fledged generation of Intel CPUs. Cannon Lake might be the 10th gen Intel CPU lineup instead and will be released in late 2019.
Here are all the reasonably authentic rumors and pretty much everything we know so far about the highly anticipated Coffee Lake S and supposedly 10nm Cannon Lake processors from Intel.
Major Rumors and information we have right now
Here are all the major rumors and information we have for Intel's Coffee Lake S and Cannon Lake Processors.
Release Date, Speculated Prices and expected specifications of Coffee Lake S & Cannon Lake Processors
Like I said before, the Cannon Lake processors have been delayed twice already. Right now, everything points to a 2019 release. This is what TechRadar had to say about the release date of Cannon Lake CPUs –
We were supposed to get Cannon Lake twice already. The presumably 9th-generation Intel CPUs were initially supposed to follow Skylake in 2016, then Kaby Lake in 2018. But according to Intel's Q1 2018 financial report, it's "currently shipping low-volume 10nm product and now expects 10nm volume production to shift to 2019." So, we're not getting Cannon Lake in 2018.
Now, Intel's Chief Engineering Officer Venkata Renduchintala revealed that they won't be shipping consumer 10nm CPUs until the holiday season of 2019, which is late 2019. This information comes from Digital Trends. Still, we can't be sure of anything. But one thing which we can be sure of is that we won't see Cannon Lake anytime soon in 2018 and probably even early 2019.
For the prices – there haven't been many changes to Intel's pricing for years. So, we can expect prices of both 9th gen and 10th gen Intel Processors to be very similar to current prices for their 8th gen Coffee Lake CPUs.
We really don't have much concrete info for the Cannon Lake CPUs. Intel said that it would start shipping mobile Cannon Lake CPUs in late 2018 though, so we can expect some advancements for laptops. What we're really sure of right now is that the Cannon Lake CPUs will feature a 10nm manufacturing process, way better than the current iterations of 14nm CPUs. A better manufacturing process will allow for more transistors to be put on the CPU die, resulting in better specifications and thus performance improvements.
Right now, we have some strong rumors for the 9th gen Coffee Lake S Processors. These are rumored to release in August or late 2018. Here are the expected specifications for the upcoming Coffee Lake refresh CPUs, by Wccftech.
MSI confirms an update to their Z370 Motherboards which will feature support for 9000-series Intel Processors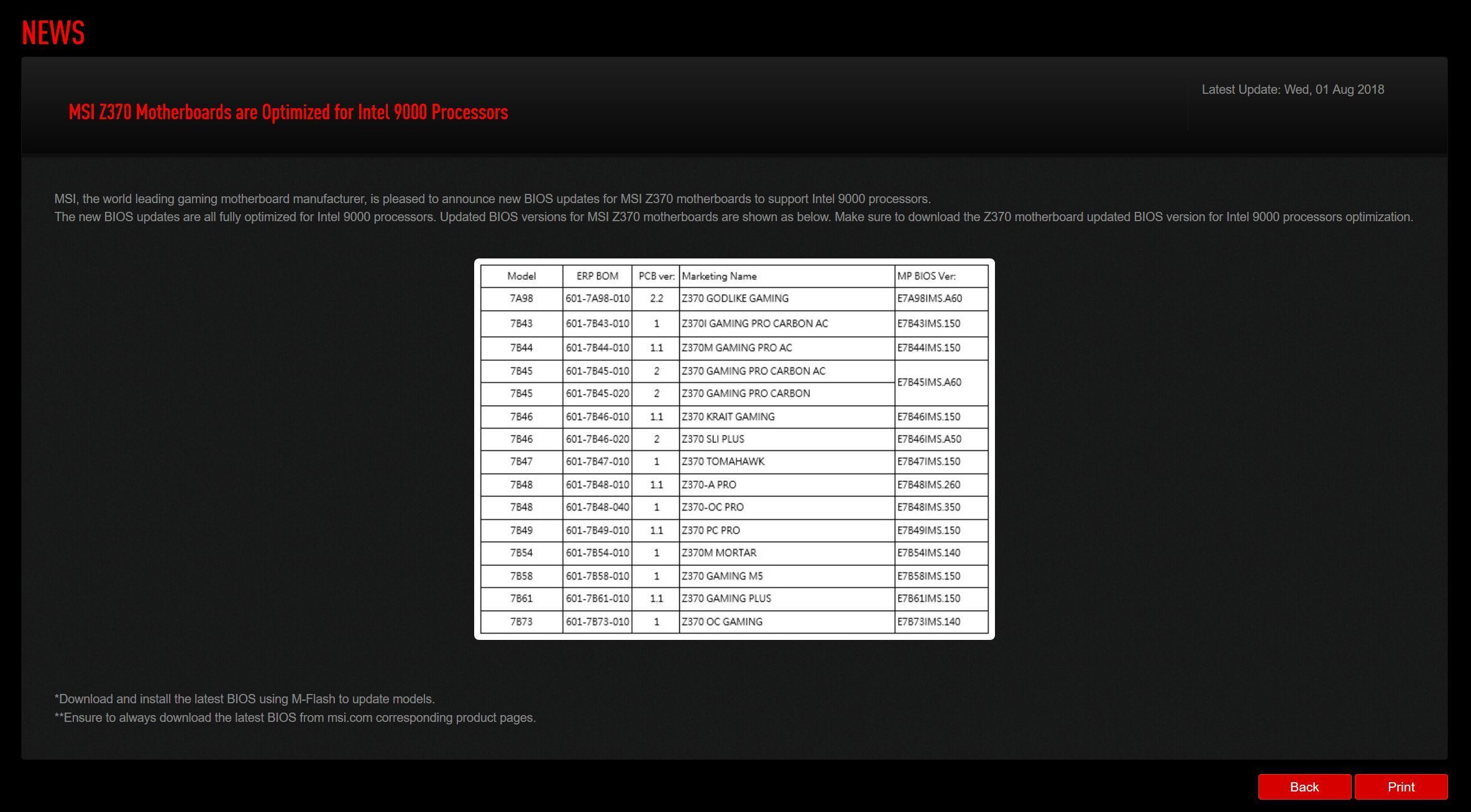 Intel hasn't confirmed anything officially from their side about these apparent 9000-series processors. But here we have a blog post from MSI that confirms their existing Z370 motherboards will have support for these very CPUs. The blog post lists all their Z370 Motherboards and the BIOS versions for this very update that will bring support for the upcoming 9000 series processors.
Several websites have assumed the 9000 series to be the Cannon Lake CPUs, but as I said before, Intel seems to be planning to make Coffee Lake S a full-fledged generation of Intel CPUs which will be the 9th gen series, so this blog post giving BIOS updates for 9000 series processors is not actually for Cannon Lake CPUs but for the upcoming 9th gen Coffee Lake S processors which are actually going to be a refresh for current 8th gen Coffee Lake CPUs. Now this is a very big rumor and it does bring us several points –
The next 9th gen Coffee Lake S CPUs will use the same LGA 1151 Socket.
The LGA 1151 Socket is being used since Intel's 6th gen Skylake CPUs which were released back in 2015. The 7th gen Kaby Lake processors used the same socket, and then even the 8th gen Coffee Lake CPUs were released on the same socket. But, the Coffee Lake CPUs had a ton of advancements and were not supported on older 6th or 7th gen motherboards. Like the Coffee Lake and Skylake CPUs, motherboards released for the 8th gen processors will be compatible with newer 9th gen chips. Now, this brings us to the second point –
The Coffee Lake S CPUs will be more of a refresh
This means that the next 9th gen Coffee Lake S CPUs might not bring as many advances compared to what Coffee Lake brought. When Intel released the 7th gen Kaby Lake CPUs, they weren't much of an improvement compared to 6th gen Skylake CPUs. Have a look at this comparison between the i7-6700K (Skylake CPU) and i7-7700K (Kaby Lake CPU).
It's an entirely different story for the 8th gen Coffee Lake CPUs. But this tremendous improvement is also said to happen because of AMD's launch of insane value for money Ryzen CPUs. Anyway, the improvement was so significant that their Core i3-8350K was close to the performance of their last gen last-gen Core i7-7700K CPUs –
So, judging by Intel's pattern with the 7th gen Kaby Lake CPUs being a refresh of the 6th gen Skylake CPUs, we're expecting the 9th gen Coffee-Lake S CPUs to be a refresh of their 8th gen Coffee Lake CPUs. But here comes another bomb –
AMD has big plans for their next Ryzen lineup so it's more probable that Intel will bring big improvements in their 9th gen CPUs too. Ryzen 2 was a big hit and in my opinion, it offers way more value overall compared to 8th gen processors thanks to the higher amount of cores. AMD has promised support for their AM4 motherboards till 2020 so I expect Intel to offer similar support for their current LGA 1151 motherboards. As I said before, the tremendous improvements which Intel brought from 7th gen to 8th gen CPUs are said to be done because of AMD's release of insane value for money Ryzen CPUs. And since AMD is planning big things with their next Ryzen CPU lineup, we could very well expect that Intel would repeat what they did with 7th and 8th gen and bring a big improvement in 9th gen too. Recently, AMD's stock prices increased a ton and they're doing very well. Intel really needs to pull off something big for their 9th gen CPUs and I expect them to surely do so.
Still, we'll have to wait and see what Intel does.
Publicly released Intel document confirms shipment of a 10nm Cannon Lake CPU in 2017
Tom's Hardware published a report which contained a publicly released document confirming shipment of a 10nm Cannon Lake U series Processor. The codes '2+2' and '2+0' point to a dual-core, hyper-threaded processor and the name 'Coffee Lake U' points to a very low TDP. So, there is indeed a 10nm CPU and Intel has indeed started development of the Cannon Lake CPUs.
Conclusion and what's next for Intel
There are a ton of rumors and many contradict each other. I've looked into a ton of rumors and for now, it seems that Intel will be releasing Coffee Lake S 9th gen CPUs this year which will have a 14nm+++ manufacturing process (third iteration of the 14nm process) and they'll be a refresh of the existing 8th gen Coffee Lake CPUs. Cannon Lake will arrive in late 2019 but Intel is definitely going to use a 10nm manufacturing process on it. What do you think about all these rumors and what appears to be next for Intel? Let's discuss in comments.